Year 5
Happy New Year .
Welcome to Spring in Year 5. We hope you had an enjoyable Christmas break and are ready for more exciting learning in 2022. This half term, as part of our focus on Identity and Diversity, we will be learning about refugees and ways we can help people in this situation. We will be learning about Judaism and hope to make a visit to a local synagogue.
Our Global theme is Identity and Diversity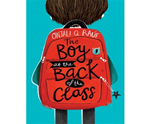 English and Reading
This half term, our core book is 'The Boy at the Back of the Class.' By Onjali Q. Raúf.
The children will continue to develop their reading and comprehension skills by making predictions based on visual images and the text, inferring and clarifying their understanding of words and phrases based on evidence from the text. They will also develop learning behaviours such as supporting and actively listening to each other and investigate the poem, 'The day the War Came.' by Nicola Davies. Information texts about space and planets will be a reading focus linked to our science topic. They will also be delving into the book, 'Cosmic' by Frank Cottrell Boyce. In writing, they will focus on the structural and language features of letters and also write a prequel to the core text.
Maths
In maths, the children will use a range of methods to increase their understanding of fractions, beginning with factors and multiples of numbers. Mixed number and improper fractions will be used to order fractions. Then they will be adding and subtracting fractions. Next, they will be finding fractions of whole numbers. There will also be a focus on developing a range of mental calculation strategies. Ensuring your child is fluent with their times tables up to 12 x 12 would be very helpful. Key vocabulary associated with fractions will be emphasised and there will be opportunities to apply what they have learnt on a daily basis through reasoning and problem-solving activities.
Science
The children will be developing their knowledge of Earth and space. They will be analysing the historical theories of the Earth and other planets. The phases of the moon will be studied along with investigating how day and night happen. This will help them to understand different time zones around the world, a geography lesson focus. They will be researching how the seasons are created and the movement of the planets in the solar system
PSHE
'My dream job' is the theme for part of this half term. This involves children finding out about their chosen profession and how to reach to the long-term goal via a series of steps. 'How to keep myself healthy' will focus on the benefits of getting enough sleep, outdoor activity and the effects this has on mental health. Good personal hygiene and the health benefits of immunisations will be especially relevant for the children's learning today.
French
The children will be focusing on people and places in a town, telling the time to the nearest ½ hour and learning to talk about some different sports in French.
Art/Design Technology
The children will be investigating artwork created by Alwy Fadhel. They will be investigating a range of his images with a focus on using coffee for painting. By developing techniques to include details of outlines, patterns, tones and sketching, the children will record their ideas in their sketch books. They will then use some of these techniques to create their coffee painting in the style of the artist.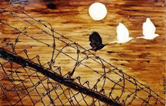 Computing
The children will be focusing on word processing using Google Documents and Purple Mash's software. They will be inserting and editing text and images to their documents.
PE
There will be a focus on Tag Rugby in outdoor PE. Indoor PE will be developing their gymnastics skills with Coach Stephanie..
Useful Information
PE Kit
Please ensure your child wears the correct PE kit to school on Mondays (indoors) and Tuesdays (outdoors). Having all PE items clearly labelled, with their full name will help reduce the need to replace lost items.
Reading Records and Passports
Please check your child's book bag for a reading diary, books and reading passport. The reading diary needs to be signed and handed in EVERY FRIDAY, the same as the reading passport. Please date and initial (not just tick) their reading passport for every 5 minutes of reading inside the small box to enable your child to work towards becoming a Reading Ambassador.
Water Bottles/ClothingChildren will need to bring their own water bottle to keep in class which they can access throughout the day. Please make sure your child's name is written clearly on their water bottle and jumper.
Home Learning/Spellings/Times Tables
Children will be given spelling and times tables to learn each week. They will be given out on a Tuesday and tested the following Tuesday.
Timings for Year 5
School starts at 8:45am and ends at 3:15 pm. Break time is 10:30am – 10:45am. Lunch break is 12:15pm – 1:15pm.
Diary Dates
Tuesday 8th February 2022 - Safer Internet Day.
Half term: Monday 14th – Friday 18th February 2022
INSET Day (school closed to children) – Friday 11th March 2022
Year 5 Spring Sharing Assembly Thursday 3rd March at 9:00-9:15am
Easter Break: Monday 11th-Friday 22nd April 2022